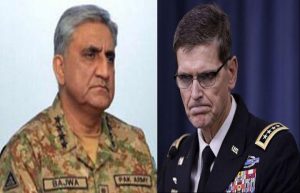 Mr. Bajwa told Votel that Pakistan would not request the resumption of military aid from the U.S.
Head of U.S. Central Command Gen. Joseph Votel spoke by phone with Pakistan's army chief offering assurances that the United States will not unilaterally strike targets inside Pakistan, a spokesman for Pakistan's military said on Friday.
According to New York Times, spokesman Maj. Gen. Asif Ghafoor said in a statement that Votel in his call to Gen. Qamer Javed Bajwa reiterated Washington's concern about Afghans using Pakistan as a staging ground for attacks inside Afghanistan.
It added that Bajwa told Votel Pakistan was fully aware of the U.S. concerns regarding activities of Afghan nationals in Pakistan and is already undertaking several operations against militants.
Ghafoor did not state exactly when the conversation took place, saying the call was made to Bajwa earlier this week.
It said both generals spoke of the need for continued cooperation in the war on terror.