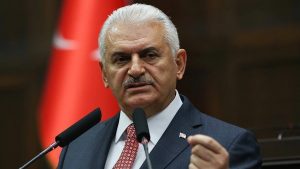 Turkish Prime Minister Binali Yıldırım has once again criticized the United States' ongoing alliance with the People's Protection Units (YPG), after reports that the Syrian Kurdish group made a deal with Daesh (ISIL) to withdraw from Raqqa, saying this US action is not acceptable.
According to Hurriyet, Turkish Prime Minister strongly criticized the US for defending a secret agreement to expel hundreds of Daesh terrorists form Raqqa while being sieged by Kurdish forces.
"Some have let [ISIL terrorists] leave Raqqa with their weapons instead of eliminating them from the city. Terrorists left with their weapons and the YPG-PKK has replaced them. One terror group left Raqqa and another settled there. Is this your rational policy? Is this your strategic, tactical cooperation?"
Yıldırım said during a parliamentary group meeting of the ruling Justice and Development Party (AKP) on Nov. 14.
Turkey's prime minister stressed that the US standing beside a terrorist group is not something a government does, but America defends its performance on this issue, saying it has done to prevent more bloodshed and easy capture of the city of Raqqa.
However, the BBC has reported that a deal was struck between the SDF and ISIL to help thousands of fighters and their families escape from Raqqa along with their weapons and ammunition.
The evacuation convoy reportedly consisted of nearly 50 trucks and 13 buses, along with more than 100 vehicles of ISIL.
According to Middle East experts, Turkey is worried more about the Kurdish militants getting power, not members of the ISIL, because these militants are fighting with the Turkish government for independence.