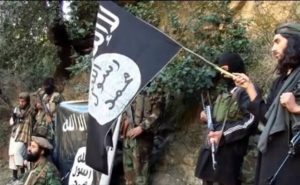 15 Daesh members were killed as a result of drone strikes in Achin district of Nangarhar province, provincial officials say.
According to a statement by Nangarhar's governor press office, as a result of drone strikes late Saturday night in Achin district, 15 members of Daesh terror group were killed.
One civilian was also killed during the attack, the statement said.
Daesh group has a widespread activity in Nanagarhar province than any other part of Afghanistan which it concerned the people and the representatives of the province at the parliament. Zaher Qadir, MP, had accused the government of engagement with ISIL group, saying that if the government does not take any measure to destroy them, he himself will do it.
Nangarhar province located in the east of Afghanistan which it has joint borders with Pakistan's Khaibar Pakhtunkha state. Insurgents enter Afghanistan using the border.