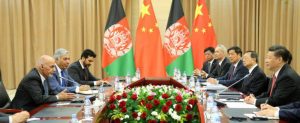 Chinese president in a visit with president Ghani has said that Afghanistan is the first line of the fight against terrorism.
President Ghani discussed with his counterpart, Xi Jinping on the sideline of Shanghai cooperation organization (SCO) in "Astana," capital of Kazakhstan.
During the bilateral meeting, issues such as continuing and intensifying leadership political consultation between the two countries and also continue to deepen cooperation in the field of security, counter-terrorism, establishing peace and stability, expanding mutual economic and trade relations were discussed. Quoted from ARG palace.
In this conference, the Chinese president besides expressing his condolences due to the recent events in Afghanistan and declaring solidarity with the government and the people of Afghanistan, said that terrorism is a common enemy for the region and the world.
He also congratulated successful holding "Kabul process," to president Ghani.
Xi Jinping stressed on establishing cooperation and regional and international coordination to destroy terrorism.
On the other hand, president Ghani has stated that we had a transparent management for peace in the past. We are still ready for reconciliation with Taliban and peace with Pakistan.
Mr. Ghani added that now, it's time for agreement and action on specified projects between Afghanistan, China, and the relevant countries.
It is noteworthy that president Ghani has met and discussed with the presidents of Kazakhstan, Tajikistan, and Uzbekistan as well as with Mohammad Jawad Zarif, Iran's foreign minister, on the side line of SCO conference.