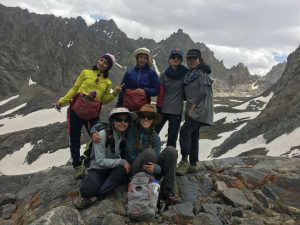 The climbing girls who had traveled to Bamiyan from several provinces arrived at Baba Mountain after many nights.
According to DID news agency report, in this journey, girls who participated from Kabul, Maidan Wardak, and Bamiyan provinces arrived at the slopes of Baba mountains after 6 days, said Bamiyan governor spokesman Abdul Rahman Ahmadi.
He said the aim of launching the journey is to promote mountain climbing culture in Bamiyan province and added: "the launch of such programs will attract more tourists."
Meanwhile, the team's foreign coaches also said that the aim of the trip is to promote mountain climbing in Bamiyan province.
They traveled along the Bamiyan's Dara Foladi path in 6 days to reach the peaks of Baba Mountain.
The team was very happy with the amazing nature of Bamiyan province and the local people's demeanor and appreciated the good behavior of the security forces.
The mountain climbing program had been launched by Ascent entity. The entity CEO says that we try to conquer Shah-e Foladi too – the highest point of Baba mountain by next months.