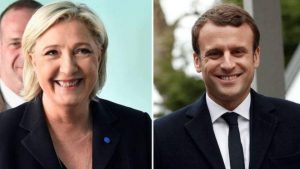 French voters on Sunday began casting ballots in the presidential run-off between independent centrist Emmanuel Macron and far-right leader Marine Le Pen.
Mainland France's 47 million voters began casting their ballots at about 70,000 polling stations around the country at 8am. Usually reliable estimates of the result, based on a representative count of actual votes cast, will be released as the last stations close at 8pm. Quoted from foreign media.
In the first round two weeks ago, voters rejected representatives of all the traditional mainstream political parties in France, with Macron and Le Pen topping an 11-strong field, taking 24% and 21% of the vote respectively.
It is said that French presidential elections have been held under security condition that more than 50 thousand police and 7 thousand army militants are guarding the polling places.
This is the first time that presidential elections is held in emergency situations in France.