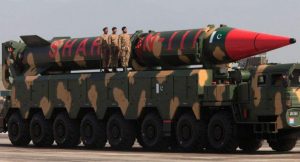 The Pakistani government asked New Delhi not to carry out action that escalates war amid efforts for peace.
The senior Pakistani foreign officials announced that Islamabad has declared its protest through diplomatic channels.
The army's response came days after Indian Army chief General Bipin Rawat's recent remark that the force was ready to call Pakistan's "nuclear bluff" and cross the border to carry out any operation if asked by the government.
"We will call the (nuclear) bluff of Pakistan. If we will have to really confront the Pakistanis, and a task is given to us, we are not going to say we cannot cross the border because they have nuclear weapons. We will have to call their nuclear bluff," Rawat said at a press conference on Wednesday.
Pakistan Army spokesman Major General Asif Ghafoor warned of response if India undertook any misadventure.
"Well, it's their choice. Should they wish to test our resolve they may try and see it for themselves," Ghafoor told state-run PTV.
He said General Rawat's comments were unbecoming of an army chief.
Asserting that India was not in a position to launch a conventional war over nuclearisation, Ghafoor said Pakistan had credible nuclear capability exclusively meant to foil any threat emanating from the east.
India and Pakistan have disagreement over the rule of Kashmir and have had armed clashes many times.