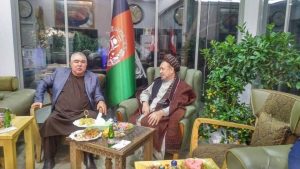 Deputy of the chief executive directorate, M. Mohaqiq met with first vice-president Gen. Dostum in Ankara, the capital of Turkey.
It is said that both sides discussed on plans of national coalition for the salvation of Afghanistan as well as reviewing a strategy for the first VP to return to the country.
Meanwhile, Bator Dostum, son of Gen. Dostum and the acting head of Hezb-e Junbish Milli wrote on his official Facebook page that the two sides talked about security issues, ways out of the country's current crisis and the continuation of the coalition's activities.
Earlier, Ata M. Noor, M. Mohaqiq, and general Dostum created the coalition for the salvation of Afghanistan in Turkey and this is the second time that Mr. Mohaqiq met with general Dostum in Turkey.
It is worth mentioning, many times, it has been vowed that general Dostum is coming to Kabul, but have not come yet and the rescue coalition has not officially declared existence too.