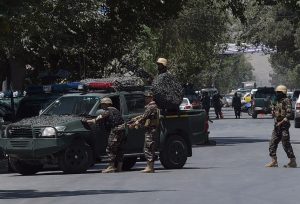 A group of armed attackers raided Iraqi embassy in Kabul's Wazir-Akbar Khan area Monday morning, officials said.
The attackers were 6 people that one of them detonated himself in front of the Iraqi embassy entrance door, clearing the way for others to enter the building.
The Ministry of Interior is saying that the embassy staff has been successfully removed from the compound.
Clashes between the invaders and the security forces continued for many hours.
Daesh (ISIS/ISIL) group claimed responsibility for the attack, according to Amaq news agency.
There are no exact details about the casualties and losses of the event.