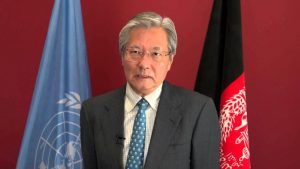 The top United Nations official in Afghanistan, Tadamichi Yamamoto, visited Faryab's government officials and community leaders on Tuesday.
Mr Yamamoto, head of the U.N assistance mission in Afghanistan (UNAMA) discussed key issues, including peace, elections, security and support to conflict-displaced Afghans with province's officials and elders.
He had several discussions with local officials to evaluate the UN's systems in place to address the northern region's challenges. Quoted from UNAMA.
"The peace process must be taken up by all members of society, including women, who must play an important role in that process," the U.N envoy stressed.
In each meeting, he listened to the Afghans' concerns about the current situation in Faryab and the broader northern region, and underlined the UN's commitment to do everything in its power to assist the government and people of Afghanistan in achieving security, stability and prosperity.