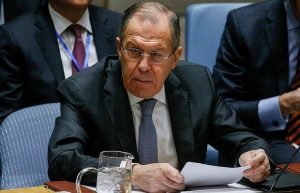 The Russian foreign minister Sergei Lavrov said, ISIL terror fighters fleeing from Iraq and Syria are going to Central Asia and northern Afghanistan.
"Northern Afghanistan is turning into a main base for international terrorism with the Afghan wing of the Islamic State in the lead," he said. "It is forming a springboard for heinous designs in the spirit of the notorious ideology of a caliphate."
This comes as the northern Afghan security officials have repeatedly expressed concerns over the expansion of terrorist activities in north and have accused the central government of backing up terrorists and ignoring this part of the territory.
According to Lavrov as quoted by Tass News agency, drug production in Afghanistan, which saw an unprecedented growth last year, is fueling international terrorism.
"Last year saw an unprecedented growth in Afghan drug production," he said.
"We will continue to help Kabul train national civil and law enforcement personnel and strengthen combat effectiveness of the Afghan armed forces," he stressed.
"We welcome Uzbekistan's initiative to convene a meeting on the Afghan settlement this coming spring," the Russian top diplomat said.