The traditions and customs of the people of Tajikistan and Afghanistan are very similar to each other. Examples of these include.
---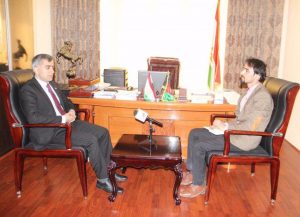 Nawruz festival has now become a global celebration. People celebrate Nawruz in most Middle Asia, Central Asia, Caucasus, Indian subcontinent and Balkan countries and its geographical range increases every day. The vast geography of Nawruz and its coincidence with the spring of nature in the northern hemisphere, its ancient background, and the emphasis of the festival on kindness among the world, have attracted the attention of the United Nations and other countries to Nawruz festival. Today, 11 countries, including Afghanistan, Iran and Tajikistan, are the official states of the Nawruz regions. Tajikistan in the spring is one of the destinations in the New Year. People on this day hold various and interesting festivals in different cities of the country. Our correspondent in Balkh province Mahdi Sarbaz visited Mr. Najmuddin Imamo, the Consulate of the Republic of Tajikistan in the province and had a conversation with him about the celebration of Nawruz and common culture among Tajiks and the people of Afghanistan.
DID press agency: how Nawruz festival is celebrated in Tajikistan?
Najmuddin Imamo: Today Nawruz festival is celebrated from west China to Northern Africa and countries like India, Turkey and some European countries; this issue indicate that Nawruz festival changed into a global ceremony. Nawruz is held in a special way in Tajikistan. It is an official festival in Tajikistan and President Emomali Rahmon has a significant role in holding the festival the best way possible.
DID: How Tajik people view Nawruz festival?
Imamo: Nawruz is the legacy of our ancestors. We consider it as a symbol of unity and sympathy. We believe that people on this day not only come together from one nation but from nations around the world to enjoy happiness and serenity. Nawruz is a day of happiness for the people of Tajikistan and the restoration of nature. In Tajikistan, we plant trees in our cities to celebrate this day. I should say that Tajikistan has become much prettier than the past due to the same fine tradition. We turned many deserts into magnificent gardens that one can understand this fine tradition just by viewing the beauties.
DID: What are the common traditions between the people of Afghanistan and Tajikistan?
Imamo: The traditions and customs of the people of Tajikistan and Afghanistan are very similar to each other. Examples of these include Samanak Pazi, house refinement, visitation, purchasing new clothes, and going to nature, which in Afghanistan, it is called "Mele-e Gul-e Surkh." These are common traditions celebrated on New Year's day In Afghanistan and Tajikistan.
DID: How has cooperation ever been between Tajikistan and Afghanistan regarding Nawruz festival?
Imamo: We have had many joint cultural programs in this field, including facilitating ways for the people of the two countries to participate in the Nawruz festival in Tajikistan and vice versa. Right now, many people from both countries have come to Afghanistan to see Nawruz festival and traveled from Afghanistan to Tajikistan, which will further increase cultural contributions, sympathy and solidarity among the people of both countries.
DID: The people of Afghanistan and Tajikistan have many cultural similarities, how are cultural and scientific cooperation between the two countries?
Imamo: We have many joint projects in both cultural and scientific fields with Afghanistan. For example, printing the books of Afghanistan's writers in Tajikistan. In addition, allocating educational scholarships and special discounts in the field of education for the citizens of Afghanistan are scientific programs.
DID: As the last question, could you please share your message on the occasion of Nawruz with our readers?
Imamo: On behalf of my people, I wish a good, happy and prosperous year for the dear people of Afghanistan, and I wish this year would bring peace and tranquility to all the people of Afghanistan.
DID press agency: Thank you for accepting our invitation for the interview!
Najmuddin Imamo: Thank you and all of your colleagues, and I wish you a good and happy year!