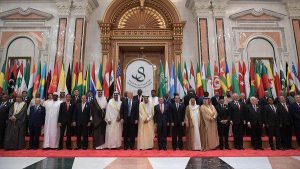 Islamic-Arabic and American summit, attended by Donald Trump, the U.S president and leaders from over 50 Arabic-Islamic countries launched at the international exhibition and congress of Malik Abdul Aziz in Riyadh, the capital of Saudi Arabia.
Anatolia news agency reported that in addition to America and Saudi Arabia, representatives from Afghanistan, Turkey, Iraq, Kazakhstan, Azerbaijan, Tajikistan, Kyrgyzstan, Uzbekistan, Turkmenistan, United Arabic Emirates, Kuwait, Qatar, Oman, Bahrain, Egypt, Jordan, Morocco, Algeria, the Union of the Comoros, Tunisia, Yemen, Sudan, Indonesia, Malaysia, Brunei, Bangladesh, Maldives, Uganda, Senegal, Guinea, Burkina Faso, Ivory coast, Niger, Mali, Cameroon, Gabon, Nigeria, Chad, Guinea-Bissau , Sierra Leone, Togo, Mozambique, Benin, Gambia, Guyana, Suriname, Albania, Pakistan, Libya, Palestine, Lebanon and Somalia have participated at the meeting.
Al-Arabia news channel wrote, Salman Bin Abdul Aziz, the Saudi king who was speaking at the opening conference of Arabic-Islamic-American on Sunday, May 21, stressed that "we do not blame the Iranian people for the crimes of Iran's establishment."
Malik Salman also said that countries participating in the conference are important partners in the fight against extremism and terrorism.
"We will cooperate defeating terrorism on every face it is," the Saudi king added.
He stressed that Islam religion will be a religion of mercy, coexistence, and peace, adding that some attributed to Islam, taints the face of religion.
"We do not accept dividing nations on the basis of religion and sect," Saudi king said.
"Iran's system, Hezbollha, Houthis, Daesh, and Al-Qaeda are similar," he added.
"We do not blame the people of Iran for the crimes of Iran's establishment," Malik Salman stressed.
Malik Salman had said before the summit that "Horizons of Riyadh conference will be positive for the region and the world and it will strengthen our coalition against terrorism and extremism."
On the other hand, Donald Trump, the U.S president has also said among the leaders of a number of Islamic and Arabic countries; "do not expect us to eradicate terrorism. 95 percent of terrorists are Muslims."
"We see no evidence that victims of terrorism are Shiite or Sunni; we see the shedding blood, we have nothing to do with tribe." The American president said.
"The Middle East countries should not expect that America destroys terrorism for them. You need to act, we will help." He added.
The conference of Islamic countries was held in Riyadh, while Iran, one of the most powerful Islamic countries is not present at the summit. Meanwhile, there are views that the meeting was launched in order to expand the scope of the crisis in the Middle East and to add more pressure on countries such as: Russia, Iran, and Syria.