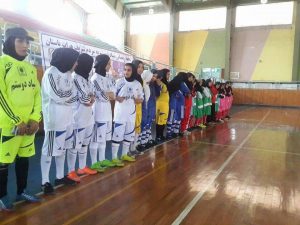 Futsal tournament was held in Mirwais Sadeq stadium, participating 8 teams by Dostum foundation.
"This tournament has been held on September 5th on the occasion of International Charity day to encourage women and will continue for one week," said Mohammad Faryabi, CEO of Dostum foundation.
On the other hand, Abida Nafe, CEO of Herat's women Futsal committee said, women's enthusiasm to Futsal sport is rising in Herat province, but a number of families still do not let their daughters pursue sport which has led women to less focus on sport.
"If traditional beliefs are eliminated, women can grow dramatically in sports," Ms. Nafe added.
Meanwhile, Hamidullah Kabir, head of general physical education of Herat province, confirming Ms. Nafe's words, saying the biggest challenge for women's futsal in Herat is the restrictions imposed by their families.
Fariba Saberi, a citizen and a participant in the tournament says, they have been threatened to death many times by different people, but we were secretly playing futsal.
140 ladies are busy in futsal sport. 11 club teams and 27 women futsal teams have activity at schools of Herat province.