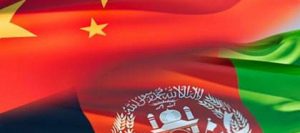 Afghanistan and China have signed Memorandum of Understandings for reconstruction of railway network from Sherkhan Port to Herat and implementation of the electricity project on Kabul-Kunar River.
The MoUs were signed on Friday in the presence of President Mohammad Ashraf Ghani and his Chinese counterpart Xi Jinping.
According to a statement from the presidential palace, the agreements were signed by the Afghan Ambassador to China Janan Mosazai and the deputy chief executive of the Chinese firm to be tasked for the feasibility study and implementation of the two projects. Quoted from (Wadsam).
This comes as the National Unity Government of Afghanistan has emphasized on expanding trade ties with the regional countries and increasing electricity production by building more dams.
The National Procurement Commission (NPC), chaired by President Ghani, reviewed a report by the Ministry of Energy and Water on the construction of 29 large, medium and small water dams in March of 2017.
President Ghani insisted that the country can become self-sufficient if domestic resources like work force, natural resources, geographic location, water and land are properly utilized.