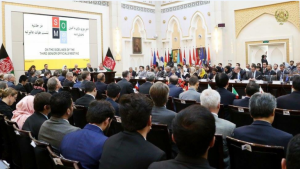 Speaking at SOM (senior official meeting) summit in Kabul, president Ghani stressed on institutionalizing democracy in the country, adding that Afghans want peace.
According to DID news agency report, president Ghani emphasized on the institutionalization of democracy at a meeting held in Kabul, attended by representatives of donor countries to Afghanistan, saying that Afghans want peace.
Referring to the political and social situation in the country, the president asserted the "demands" of Afghans should be addressed.
"Enhancing budgets, the cooperation which takes place must be monitored," president Ghani further underlined.
He also promised that the Afghan government will act decisively in the fight against terrorism and corruption.
"There is a commitment to freedom for all the ethnics," he said, emphasizing that "the government should provide services to the people."
"Political problems should be resolved in the light of the constitution," he continued.