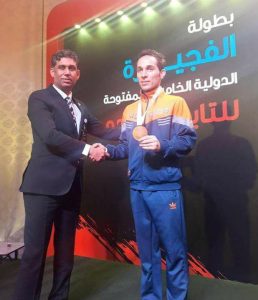 Country's national Taekwondo team that had set off to the UAE to participate in fifth open competitions of Taekwondo, with three athletes named 'Sharif Muradi,' 'Rohullah Nikpa, in the fourth weight and 'Mahmood Haidari, in the second weight, came back with a Bronze for Afghanistan yesterday.
Mahmood Haidari achieved a Bronze medal by beating his Kazakh and Saudi rivals.
Sharif Muradi and Rohullah Nikpa were eliminated from further competitions.