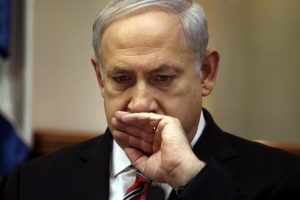 Thousands of Israeli citizens have gathered in front of the House of "Avichai Mandelblit" the Israel Attorney General in Tel Aviv, calling for investigation and prosecution of Benjamin Netanyahu.
Protesters chanted slogans aimed at overthrowing Israeli Prime Minister Benjamin Netanyahu, Palestinian Information Center reported, quoted from Sputnik.
Meanwhile, nearly 500 members of the "Likud" party led by Netanyahu set up a rally in support of Netanyahu. A number of ministers and members of the Knesset of Israel, from the Likud party, also attended the rally, accusing the Israel left-party of attempting to overthrow Netanyahu government through influencing the judiciary system.
Nawa Bowker, a member of the Knesset from the Likud party also said that what we see is an attempt to "coup" against the administration.
Israel's Minister of Communications Ayoub Kara also backed Netanyahu.
Meanwhile, "Haaretz" newspaper quotes from the Israeli police, stresses that the investigation pointed out that Benjamin Netanyahu has contributed to corruption, fraud, and betrayal cases.
The Israeli police have vowed that the Peace court's refusal to publish details of the investigation and interrogation of Netanyahu is due to the strength of his involvement in corruption and fraud cases.