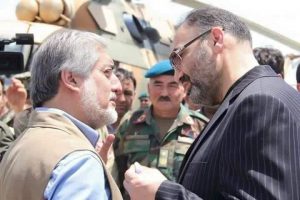 Following the recent statements made by Balkh governor and chief executive of Hezb-e Jamiat-e Islami Ata M. Noor, some members of Jamiat-e Islami backed up Mr Noor's stance while some others supported Dr. Abdullah's position.
Addressing to public on the occasion of the martyrdom of Abdul Qadir Zabihullah in Mazar-e Sharif, Ata M. Noor accused Dr. Abdullah of plotting against members of Jamiat-e Islami.
Meanwhile, Dr. Abdullah reacted against Mr Noor's statements during senior officials summit, saying "he is not behind any conspiracies and the leadership council of Jamiat-e Islami had agreed to the resignation of Mr. Noor with the presidency."
"The negotiating team was present with the chief executive directorate at all levels, regarding the issue of Balkh governor, but the Dr. Abdullah's latest remarks about this issue is and was Impossible," Noor Rahman Akhlaqi, a member of Jamiat-e Islami's leadership council said in response to Abdullah's words.
"The leadership council of Jamiat-e Islami only demanded from Dr. Abdullah to give a 14-day opportunity to consult with Ata M. Noor, but Mr Abdullah did not agree about the issue," he added.
"The leadership council of Jamiat-e Islami party wanted Ata M. Noor to remain as the governor and to peacefully end this issue," Mr Akhlaqi continued.
"On 17 December, the relevant committee meeting lasted from 5 pm to 11 pm. The only request of the negotiating team was to take a 14-day opportunity from the chief executive to avoid it become a problem, but the last response of the chief executive was that it is impossible. That night, we understood Dr. Abdullah has never directly talked with Ashraf Ghani about the issue. He only sent his message to Ghani through Rahimi, the head of Ashraf Ghani's office and Stanekzai," he further said.
Ismael Khan, another prominent member of Jamiat-e Islami leadership vowed his support from Balkh governor's stance, saying this administration is illegal and does not have the legal qualification to oust Ata M Noor.
"The absence of Balkh governor at this political stage means the collapse of last fortress against ISIL," he said.
Yunus Qanuni and Amanullah Gozar, the other two members of Jamiat-e Islami leadership council also backed up Noor's stance against ARG palace, saying "his removal as Balkh governor is unacceptable."
On the other hand, former head of national directorate of security Amrullah Saleh and Adib Fahim, deputy to national directorate of security supported Dr. Abdullah's stance, calling for ease of tensions.
Adib Fahim wrote on his official facebook page: "Dr. Abdullah Abdullah is in the position of Mujahidin leadership and represents from millions of compatriots, disrespecting this position, is disrespect to all of us."
Amrullah Saleh, former head of national directorate of security and leader of Green Trend also reacted against Ata M. Noor's statements.
"Afghanistan's Green Trend as active member of Reform and Convergence team supported from Dr. Abdullah Abdullah in 2014 election. Unfortunately, the rival team in cooperation with Mr. Karzai's administration resorted to widespread cheat and the election ended without a clear result," Mr Saleh wrote on his official Facebook page.
The chairman of Green Trend described Ata M. Noor "delusion" adding: "numerous groups, figures, and organizations had a clear role both in election campaign and during resistance against fraud which is fresh in minds. Those who claim as supporter and player, are in illusion."
The differences have been raised while the leadership council of Hezb-e Jamiat-e Islami officially backed up Ata M. Noor's stance in a statement and called on the presidency to review its decision regarding the removal of Balkh governor.
The last word of Jamiat-e Islami was the ultimatum given to ARG palace Monday morning to respond very soon.
Tensions between Balkh governor and ARG palace peaked after the procurement office of the presidency announced that Ata M. Noor was replaced with a new governor.