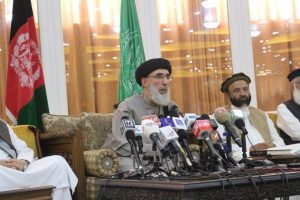 "The party was neither part of the establishment nor responsible for increasing insecurity in the country," Leader of Hezb-e Islami of Afghanistan, Gulbuddin Hekmatyar today (Thursday, 6 July) at a press conference in Kabul said.
In response to the question of (DID) correspondent, he stressed that Hezb-e Islami was not part of the government and is not responsible for increasing insecurity in the country.
"Hezb-e Islami will be responsible provided that it would be part of the system and take a responsibility," the Jihadi figure added.
"Taliban can make peace and end the war, but have their weapons in their areas and the government will not interfere in the areas too," Hekmatyar said.
The leader of Hezb-e Islami also mentioned Hassan Rouhani's rhetoric which it was "Iran will not be indifferent to the construction of Afghan bands," and said: some in Afghanistan have interpreted Mr. Rouhani's words as "Threat."
"I wish that the Iranian president would further assert what he means from being "indifference." He added.
Mr. Hekmatyar said that Afghans own all of their national assets, including the waters of this country, and no one can question it.
Hezb-e Islami leader added that the water issue should be solved through dialogue and should not be a tension in relations between the two countries.
Hezb-e Islami of Afghanistan, headed by Gulbuddin Hekmatyar, signed a Peace Treaty with the national unity government last year and pledged to end its military opposition, while there were hearings that Hezb-e Islami was distributing arms to its supporters in the north of the country.